During my longstanding activities I gained experience in design and marketing of Railway Equipment for passenger and freight transportation. I also got insight in various transport modes. Mid-1997 I retired but I still have been working as Consultant. With interest I pursue Europe's transport policy.
As trade has expanded to embrace the global community, transport links have become more important and more complex. The various transport modes differ substantially in their technology, function, institutional circumstances, and the nature and severity of their problems. Concern has grown about the environmental effects and we have begun to take a closer look at the implications of new work in the transport sector. In my opinion governments and carriers have failed to form the partnership needed to plan integrated transportation development. Transportation policy formulation and management cannot be segmented. Careful integration of policies is necessary for effective transportation systems to evolve.
Most of the railroads were government-owned until now. In a few countries legislation was approved to privatize them. They are now under private ownership and the infrastructure was separated from Railway operations. Italian and Swiss Railways have recently set up a joint venture for freight transport.
My professional life for motive power
After a few years in Converter Research and Commissioning of locomotives I started 1965 my career in Electrical Engineering of Motive Power. Afterwards I headed Marketing and Sales of all kind of Railway Rolling Stock, and experienced the significant changes in the transportation field.
An applicant for a post in my Locomotive Engineering Dept. said enthusiastically: "I am a Railway Modeler"! I replied: "You must become a professional"!
Over the past 20 years, the design and development of rolling stock has changed from granting custom-tailoring to superior customer research, creative design capability, aggressive program management and advanced process engineering. Computerized control systems, static converters and brushless traction motors have replaced physical linkages and heavy and cumbersome electro-mechanical equipment. Today's state-of-the-art motive power meets with Railroad's requirements for high-speed trains, urban transport systems, and simultaneously for heavy rail. The major suppliers have considerably widened their business concept in order to offer total railway transportation solutions.
Environmental Concerns
During the past decades, passenger travel has shifted from rail to the car and the airplane.
The German Federal Transport Routes Plan of 1992 assumes that in the year 2010, the east-west goods traffic within Germany will be seven times greater than before unification and passenger traffic nearly eight times greater! Vehicle-kilometers driven are doubling every 20 years. It is true, automobile makers have reduced exhaust emissions substantially, but the concentration of "greenhouse gases" has been rising, and there are concerns about the warming of the atmosphere.
Are travelers knowledgeable enough about environmental and safety issues to take them into account when making choices about the way they travel?
I have visited many cities with traffic congestion and air contamination level at which a dangerous health menace exists. Governments are working to combat these problems by urging traffic restrictions or temporary bans. In Bangkok e.g. satellite hospitals have been built since the congestion within the urban areas had restricted the accessibility of the main hospitals.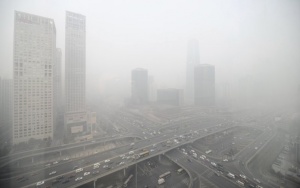 It is clear to me from my travels that the pollution problems in Athens, Bangkok, Beijing, Madrid, Mexico City, beside others, are not getting any nearer to resolution. Along with industrial smokestacks, cars using lead fuel contribute still largely to the pollution. Automobile lobbyists that haven't been to those cities should be sparing in bragging about traffic problems. They should also be aware that the costs of bottlenecks on roads amounts to hundreds of billions of USD.
The Answers
The problems we are facing aren't primarily due to the requirement of transporting passenger and goods as such. They are due to nonsense travels. People fly to Palma de Mallorca just to live it up or go for a day trip for lunch or shopping! Road hauliers offer long-distance cargo at prices lower than the expenditure, free of charge on the way back! Against unfair competition from road hauliers – railways cannot compete.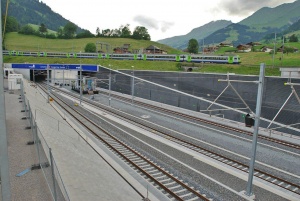 Meanwhile international road and air links are stretched to their limits while Europe's railways are still under-used. EC wants to tempt long-distance cargo off the road with a concept known as combined transport, whereby containerized freight starts and finishes its journey by road but spends most of the journey on rail. To answer the growth of the Alpine through traffic Switzerland will invest heavily in the promotion of combined transport and build rail system (including the two base tunnels at the St. Gotthard and Loetschberg) for piggy-backing lorry loads. The project is known by the name of Alp Transit.
The development of European high speed rail services has progressed in the early nineties. EC has ambitious plans for an integrated trans-European network linking countries of Central and Eastern Europe. The cost of this network had been evaluated in 1994 at about 400 billion USD. High speed trains operating at speeds above 200 km/h can offer attractive 3-4 hour day travel instead. For overnight travel the network is substantially larger, allowing travel times up to 8-9 hours. It goes without saying that interconnections between rail and airport are essential in term of total travel time.
Futuristic Projects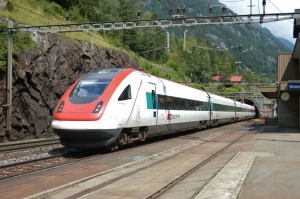 Even before completion of the European high speed network and despite the limited available funds for new constructions completely new transportation solution were proposed in Germany and Switzerland.
The German industry has being developing a magnetic levitation technology for high-speed train use: the Transrapid. The supplier group was also prepared to contribute to the cost of the construction of a link between Hamburg and Berlin. In February, 2000, the German Government has definitely withdrawn its financial participation. It is feared that the project is no longer viable.
In Switzerland transport engineers at the Ecole Polytechnique Fédéral de Lausanne have presented a transit proposal which marks a significant step forward in innovative transport technology: the Swissmetro. This is a project to prove the feasibility of magnetic levitation technology with linear electric motor drive. The vehicle glides with 400 km/h through a tunnel in a partial vacuum. The traveling time Geneva-Zurich will be 57 minutes compared with today's three hours. Also the Swiss Government cannot see a chance to contribute the necessary fund for a first trial stretch connecting Geneva with Lausanne.
Improved Efficiency
Before concluding I should like to come back to reality and deal with one of the world's leading Railways. Spoornet, the former South African Railways has structured it's management on the basis of market-led business sectors. To me, the most impressive is Freight Operations.
The computerized Operating Information & Control System provides instant information on the last reported movement of all wagonloads. Since my first contacts in 1960, Spoornet continually faced challenges in the transport field as sustained growth generated more and more traffic.
The coal and ore trains got bigger, very long and extremely heavy! As a result of the experience gained with heavy unit trains on the Ermelo-Richards Bay and Sishen-Saldanha lines a world record was claimed in 1989 when a 71'600-ton train (with a payload of 68'640 tons) was run the length of 861 km Sishen-Saldanha line. The train, 7,3 km long, was formed of 660 wagons and powered by total 15 electric and diesel locomotives. The maximal speed was 80 and the average speed for the whole run around 38 km/h. The research program directed to increase the 14'500 to 21'800-ton trainloads that were current practice on this line.