Angling
In my youth I lived on the shores of Lake of Zurich. No wonder that I became interested in angling. Even today I do remember my very first haul. I stood on the quay wall and threw the hook between two rowing boats. I was frightened to death when the fish took off, the float snapped downwards and the line was hitting the rod with force. I cursed, watched and was fascinated. My first fish, a perch! Why can angling put you through so much emotion? It's not only the catch. Standing at the side of a lake at sunrise, when the light is drawing in, the creatures wake up, it's just lovely! Even haze on the surface of the water can be beautiful.
A different practice is towing baits on four to five lines with a fishing boat if you want to catch pike or lake trout. It's always a great pleasure when Paul invites me at Lake Zurich. He is an expert and has been to many fishing grounds. In Alaska he caught salmon and halibut. Grizzle bears were close to. Our favorite topic, however, is soccer; we played together in a junior team.
Paul invited me again on Lake Zurich in summer 2000. The weather looked promising and Paul's last hauls were very successful. We cruised the inlet behind Rapperswil Castle the whole day but hadn't a single bite. Was it worth to meet Paul? Yes, indeed. We had a good chat and enjoyed the environs where we spent our youth.

With my deepest sorrow, I must inform you that Paul has passed away on February 21, 2001, after two heart operations. He however died suddenly and unexpectedly. He was 70 years old. The funeral has taken place in Jona on February 28, 2001. My thoughts are with Pauls' family, particularly with his wife, Hanni, his daughters Yvonne and Hanni, and his son Roland, who has become editor of Switzerland's Angler Journal and Paul's very best companion on his trips to overseas fishing grounds. I lost a reliable and gentle friend.
The most I enjoy the challenge to fish in crystal-clear rivers and streams. It's some times troublesome and tiring to get through thicket, high nettle and up hill and down dale to the running water. Noiseless stalking and precise throw of the bait are essential to catch the trout in it's caverns and hiding places. These trout, namely the Brook Trout, are highly regarded as table fare while the fishes in our large rivers have a foul smell despite the many sewage plants.
Due to biological imbalance or cormorants in large numbers the fish population in many Swiss rivers has been drastically decimated. In my nearest river fisheries, in the Reuss River, where besides trout, grayling, pikeperch, and pike were indigenous to, angling doesn't pay anymore. That's why my angling fun has become rare.
For concluding I should mention that, when working in Tampico / Mexico, my kind customer invited me on a good haul of swordfish and marlin. To be fair, I got a sudden feeling!
Fishermen and anglers aren't solely! Each year, individual bears may return to a particular river to await the salmon returning to their streams of origin to reproduce. The adder preys on small rodents, but it also eats lizards and fish. Cormorants are swimming and diving birds that feed exclusively on fish.
Forellen und Saibling Aufzucht Glauser
Vor Jahren entdeckten wir einen Angelteich im Bachsertal und genossen an schönen Samstagen  Forellenchnusperli mit Brot und Sauce bei einem Glas Riesling-Silvaner. Die Forellen durften damals noch persönlich gefangen werden. Väter und sogar Mütter versuchten ihren Kindern das Angeln beizubringen. Da half ich manchmal aus und entdeckte die alte Leidenschaft, nahm dann meine eigenen Ruten und Köder mit und hatte nach anfänglichen altersbedingten  Schwierigkeiten  wieder Erfolg. Die Inhaber der Anlage, Heinz und Irene Glauser, ihre Töchter Nadia und Michaela, und der aufmerksame Dominik sorgten mit Charme für perfekte Bedienung. Unter den Gästen kam immer gute Stimmung auf und wir haben nette Leute kennen gelernt. Oft kamen unsere Söhne dazu, sogar Metka's Bruder Drago und Schwägerin Maja aus Ljubljana fanden diese Besenbeiz bezaubernd.
Jael entwickelte sich rasch zu einem erfolgreichen Angler, überliess aber das artgerechte Töten dem Grosspapi!
Leider wurde der Betrieb des Angelteichs den Glauser's zu beschwerlich – die professionelle Aufzucht der Forellen und Saiblinge in 17 Teichen in Bioqualität wird mit Erfolg weitergeführt. Wir holen regelmässig Forellenfilets, auch für Bekannte und Freunde aus dem Dorf. Mit Heinz und Dominik treffe ich mich auch hie und da zum Kaffee in einer sog. Besenrein.
Football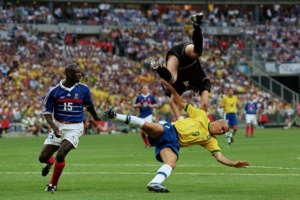 Football (known in the United States as Soccer) is, by far, the world's most popular sport. FIFA (Fédération Internationale de Football Association) estimates that throughout the world there are over 120 million organized active players . Competitions, international tournaments and championships still attract people and my self. A worldwide television audience of 1.7 billion witnessed the 1998 World Cup championship game, in which France defeated Brazil.
My Worries
I played about seven years at youth and amateur levels, mostly in the position of a midfielder. I am not aiming to call your attention to my activity. I want you to share my today's worries. Since my times, the game has developed. The teams align their players like chess pieces in strategic formations and depend on perfect teamwork. Fortunately, individual skilful players enjoy still with brilliant dribbling and scoring.
Almost every country has prominent professional leagues that also attract sponsorship. The sport has become business; Manchester United reached a turnover of 190 MUSD (1999), followed by Bayern Munich and Real Madrid. Several clubs go public. Top players and managers receive salaries beyond business tycoons. The exaggerated transfer payments for players and mismanagement have, however, caused indebtedness of a grate number of clubs. But this is no concern of mine.
Poor international governing bodies
What is worrying me, is the gap between the antiquated way to referee and the professionalism of the clubs. The influence of the referees on the score, the ranking and, last but not least, on the balance sheet of the clubs (stock corporations) has become disproportionate. The most deplorable performance, I recognize, show the referees' assistants, (linesmen) when making offside calls. They simply are unqualified to follow speedy actions. An additional referee was recently tested but is in my opinion definitely not the solution. Supervision by TV or video recording should be applied to realize mistakes, rude fouls, and to prevent from misinterpretation of violent infraction. The number of serious and costly injuries is alarming. I am extremely disappointed that the Football Federations haven't commissioned research scientists for state-of-the-art measurements. In spite of this, I have started collecting TV shots of relevant mistakes or violence in games to give evidence. In my collection are, besides mistakes, also positive arbitrations.
This part was written in 2000! What happened in between? There have been considerable debates about offside rules, interpretation of fouls, use of Goal-line technology (Hawk-Eye), remote cameras, instant replay etc. Since the Hawk-Eye technology can determine if a ball has crossed the goal line human errors will be excluded.
The number of severe injuries, how ever, have increased. Referees still interpret rude fouls indifferent. Even clubs with a grate number of players mourn staffing shortage.
FIFA and UEFA have become involved in serious scandals. The presidents Blatter and Platini were both banned for eight years by Fifa's ethics committee. Swiss and US (CIA) prosecutors opened criminal proceedings and investigate suspected corruption and money-laundering.
Gardening
Mami's Garden
Despite Metka's handicap due to her knee joint disease and her lower back problems her garden looks always just great. Many passers-by admired the great variety. Along with the colorful flowers, fragrant spices in dozens thrived. Metka's orchids, that brighten our living room in winter, spend the summer outdoors in the shade of a Japanese cherry tree.
Papi's Garden
From childhood on I am fond of affection for gardening. During World War II cooperative and home gardening became vital for Swiss people. I helped my father who -even than- was an Organic gardener using many methods to maintain the health of soil. I still follow the patterns and methods established by him but also by professionals, however adapted to small-scale gardens. I control weeds by mulching the soil and plant cover crops in the fall.
Waste from the garden, yard, and table are stored in a compost pile. It soon generates heat that facilitates rotting through composting. The compost is then applied to plants as a fertilizer.
For our family, the most obvious benefit of organic farming is – health-related – the food produced has little or no pesticide residue. Most vegetables are valuable sources of vitamins, minerals, and fiber and are low in fat and calories. With cereals and legumes, they are important to a healthy diet. We also believe the organic vegetable has more natural flavor.
Gardening is also a matter of recreation!
Our local regional climate, low air pollution, sun exposure, soil type and fertility are favorable for my garden. On the other hand fresh winds and missing water supply are disadvantageous conditions.
Greens
Vegetables can be grouped according to the edible part of each plant: leaves (lettuce), stalks (celery), roots (carrot), tubers (potato), bulbs (onion), and flowers (broccoli). In addition, fruits such as the tomato and seeds such as the pea are commonly considered vegetables.
More than 20 types I cultivate: leafy salad crops (such as lettuce, spinach, endive, celery, Chinese cabbage), root crops (beets, carrots, potatoes, radishes, turnips), cole crops (cabbage, broccoli, cauliflower), and a variety of peas, beans, eggplants, fennel, sweet corn, squashes and tomatoes.
Berries
Numerous varieties of strawberries, red- and black-currants, raspberries, blackberries grow in Metka's and my garden. They enrich our meals or are preserved to jam.
Diseases
Unfortunately our garden wasn't spared diseases. The last two seasons onions and tomatoes had several forms of mosaic disease and leaf curl. The cause is most probably a fungus that rots leaves, stems, and tubers. Fortunately the Colorado potato beetle is not affecting. I try to avoid insect pests and disease-causing fungi by planting different crops in wide alternating bands and by spraying crops with bacteria that kill immature insects and planting crops that attract ladybugs, lacewings, and other beneficial insects that prey on unwanted insects.
My volunteers
Close to my garden lives a family with three girls. Since no public water supply is around they offered access to their tap. I can never repay their kindness and the readiness to help me of the girls. Thank you Daniel, Denise, Eliane, Flavia and Janina.
What a rich harvest!
 Wandern
Hiking through meadows and forests allows you to discover the beauty of the nature, flora and fauna. Here is space to take a breather, to reflect on ourselves, and also space for conscious awareness of the surroundings. There are walking trails completely empty, even in summer, which allow you to enjoy the tranquility of nature. Hiking has ever made Metka and me the free time worthwhile. We have been to many regions and I should mention a vast number of trips, journeys or vacation. My report is, however, confined to three subjects: Slovenia, South Tirol, Forests.
Slovenia
The general public has known Slovenia when the Serb-dominated Yugoslav People's Army (JNA) sent forces to the republic in an attempt to secure Yugoslavia's borders. In Slovenia, a ten-day war ensued, in which Slovene forces defeated the aggressor. Slovenia proclaimed its independence in June 1991.
I became acquainted with Yugoslavia's history much earlier. During my apprenticeship with Oerlikon Engineering Company (1948-52) I met with refugees. They had served as officers and soldiers under the leader of the guerrilla Cetniks, Dragoljub Draža Mihailović, who turned for help to the Italians and Germans and feud with the communist-dominated government of Josip Broz Tito. Tito established a Communist government in Yugoslavia at the end of World War II (1939-1945) and ruled for 35 years. He was appointed premier in 1945 and elected president in 1953. Tito was one of the first Communist leaders to reject Soviet attempts to control his country. Most of the refugees went into exile in the States or Australia. I got benefit from the acquaintance. I learnt few words, the Cyrillic alphabet, how manifold the cultures were, and how complex and explosive the political situation was.
In 1953 three college classmates and I decided to travel on motorbike through Yugoslavia to Turkey. Many friends advised us against the journey to the communists. Indeed, it was a fateful tour and it turned out well: I met Metka forever! Up to now I visited former Yugoslavia almost 100 times and spent there about two years.
I no longer want to comment on politics but on fantastic scenery of the country. Slovenians call their home country "The green piece of Europe". In fact, half of the surface, over a million hectares, is woodland. You can find woods in Ljubljana itself, the capital city with 270,000 inhabitants. The population of Slovenia is around 2 million.
Slovenia is mountainous, much like Austria to the north and northern Italy to the west. The eastern third of the republic lies within the Karst, a barren limestone plateau broken by depressions and ridges. A main tourist attraction is the 14.3-mile-long Limestone Postojna Cave in the Dinaric Alps. The caverns are estimated to be two million years old, formed by the erosion action of the Pivka River. Giant stalactites hanging from the ceilings or sides of the limestone caverns and stalagmites built up from the floor over two million years have attracted since Proteus Hodalic1818 up to now more than 25 million people. Among the many natural phenomena, a type of salamander, the Proteus anguinus, is home in the underground streams. The Karst area is also home to the Lipizzaner horses. Lipica, whose stud farm dates back to 1580, is today a tourist center complete with riding schools and accommodations.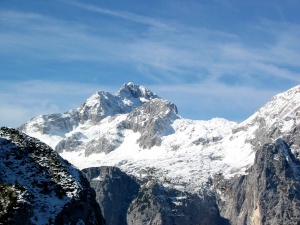 The highest Alpine peak in the country, Mount Triglav, raises 2864 m (9396 ft) and forms part of the Julian Alps in the northwestern region of the republic. Southwestern Slovenia has a small stretch of coastline, extending 40 km (25 mi) along the Gulf of Venice.
Slovenia's countryside is so manifold that it's difficult to describe it in short. Since we never went for winter holydays or preventive and curative programs I do not enter in skiing resorts and spas. Let me put in words our trip to the Soca valley in last year. The valley is of unimaginable beauty. The river passes through gorges, and the water takes on a mysterious blue-green hue. On the surface the gorges are only a meter or so wide but deeper down they widen into caverns, gullies and channels. These gloomy underwater caverns, with their white walls and gravel, are home to the largest trout in Europe, the Soca trout (Salmo marmorata). Unfortunately the Soca trout and the native brook trout interbred. Experts do now every effort to protect the true fish from alien species. Another unforgettable story I will tell in chapter Angling. Readers well versed in history will certainly remember the "Isonzo (Soca) Front in World War I, the battles and mass slaughters. By the roads, which lead from Kranjska Gora, across the pass at Vršic, through Trenta and Soca to Bovec, fallen soldiers lie resting in numerous graveyards.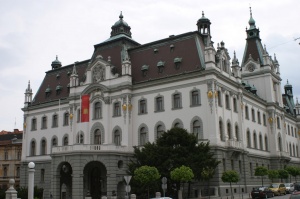 Metka grew up in Ljubljana where she also went to school and university. Our frequent visits first were meant for her parents and relatives. In addition, the charm of the city fascinated us over and over again. We never missed a stroll through the Tivoli Park, a walk to the cemetery, the castle and to the peaks Roznik, Šmarna Gora or Sv. Jakob. Other highlights are Exhibitions of Sculptures, Wine Fares, Museums, Galleries or Music Festivals.
At the time when we were young we went on walking tours of several days in the mountains. Silvio lost his puppy fat and Metka got sore feet on the "Seven-Lake Tour"! I am proud of having been several times on top of the Triglav.
When I went angling with uncle Cene, who taught me a lot, Metka, her mother and aunt Marija went picking berries or mushrooms. The alpine wooded areas offered edible boletus, chanterelles, blueberries and strawberries in immense quantity.
In the first years of our married life Metka showed me around the country and introduced me in the varied history. I was impressed by the war memorials in large numbers, and shocked by the reciprocal crime that happened during World War II. For me it was simple unbelievable that (my) Catholic Church was involved in criminal actions.
I will never forget a visit to the partisan Hospital "Franja" (Bolnišnica Franja) in approx. 1962. The national Resistance Movement started 1943 works to establish a rehabilitation center in a hidden ravine for disabled partisans and pilots of the allies. The "Hospital" complex finally was composed of twelve huts and named after the lady doctor Franja Bojc-Bidovec who had concluded the initial work of dr. Viktor Volcjak. The hospital had its own hydroelectric power plant, x-ray and surgery room. The central division had the capacity for treating about 100 people. Together the number of soldiers and civilians who got a treatment is close to 1000. The facility became suspect to the "Wehrmacht" (German Armed Forces) that attacked the hospital twice but couldn't destroy it. The doorman insisted on writing my name in the Guest Books. The very last visitor was a colonel of the RAF who got a treatment after his fighter plane crash.
On September 18, 2007 the Franja WWII partisan hospital was damaged by torrential waters. The complete reconstruction of the hospital is estimated at a cost of about EUR 3.5m. The government adopted a decision on the complete reconstruction of the monument, which is shortlisted for UNESCO status.
By accident, this unforgettable visit had a sequel the very next day. In the early morning I went to my popular angling site at the Sava River. The riverbed there is shallow but more and more sloping. Across, the water is quite deep but the current is smooth. There's no need for high boots, heavy rods and lines. I like the light tackle and use spoon hooks for brook and rainbow trout.
In the morning three local anglers came the river along. They had fully unsuitable equipment and did not reach the best fishing grounds. It goes without saying that we had a talk about angling, and finally about "God and the world". My scant knowledge of Slovenian language made the conversation difficult. As the subject changed to Bolnišnica Franja, I was wide-awake. Someone from the anglers had been in the partisan hospital. Dr. Franja was against to amputate his smashed leg but saved it. When the man draw up his trouser leg and showed the remains of his leg that looked like bone and skin, I could realize, how serious the wound was, and how grateful for Franja he was. We stopped angling and went for a Slivovka (plum brandy)!
South Tirol
On our regular journeys to Metka's native country, Slovenia, we prefer the route over the Brenner. Thus, we discovered Italy's northernmost province, South Tyrol. The region has always been a bridge between the north and the south, an important mediator between the various areas of culture and commerce. It's history shows that the country was a bone of contention and changing sovereignties. The new Autonomy Statute dates from 1972.
South Tyrol is known as a land of wine and delights relishing millions of tourists. We, however, are more devoted to the alpine landscape with the magnificent views to mountain peaks and lakes.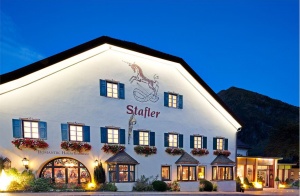 Since the 70th we are stopping away from the freeway at Hotel Stafler in the small village Mauls / Eisack valley. The typical guest house is run by the family for more than 200 years as well as today's farm with about 100 head of cattle. We have experienced friendliness and true hospitality and have become friends for a long time.
What makes the stay so pleasant? The beauty and adventure of South Tyrol is unique. We roamed many valleys. The Pfitsch valley with its green valley bottom and the numerous little hay barns has become Metka's favorite place. At the time when we were younger we made trips to the Hochfeiler hut at the foot of the highest mountain of the Zillertaler Alps. The final ridge is narrows and one should be sure footed. Metka and I remember with horror a snowstorm on a trip for "experienced mountaineers"!
To mention mysterious forms of earth pyramids, lakes, which lie like jewels in the landscape, forests in colors, magnificent gorges with waterfalls, mighty castles, alpine pastures, museums, art historical treasures , apple orchards, vineyards, and of course the culinary delights of the country. It's worth to speak about!
If your eating habits are just feeding (Fast Food) for surviving you should skip the following chapter! For Metka and me it's not a biological necessity but a pleasant habit to taste culinary delights. Even on working days we celebrate food and drink. Since we have been in restaurants of high merit, in "temples gastronomiques", I want to state clearly, delicacy can be offered in a very simple guesthouse.
South Tyrol's products reflect the customs of the country. Particular methods of preservation were necessary for a survival in the mountains. Breads (for example the famous hard "Schuettelbread", cheese and speck are the result of the attempt of preserving food. In butcher's shops one finds an enormous variety of smoked or air-dried meat and sausage products. On the other hand, the heavy work of the farming folk has influenced the eating habits: Minor matters, the snacks, between the main meals. The "Znueni", "Elevenses", "Vesper Bread" have become a special treat.
If I compare today's Swiss meals with those of South Tyrol, Styria or Slovenia the latter do remember me on the meagerness during the World War II. But I still like these stews, the warming and satisfying soups. Even my sons, who had the chance to taste grandmothers cooking, appreciated it. Since it would go beyond the scope of this description, I want to mention only some of the South Tyrolean delights: "Graukas"-cheese, "Liptauer" quark, simply grated "Kren" (horse-radish) pickled calf's head, ox-muzzle salad, "Suelze" (brawn), blood and house-made sausages, "Kaminwurzen" (smoked sausages), raviolis, doughnuts, "Schuettelbread" (This thin, round flat bread is made of a soft rye dough. Sour dough is used for loosening. The balls of dough are shaken flat (flachgeschüttelt).
Kochen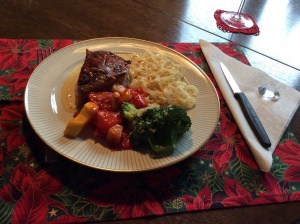 I have been interested in cooking from the time I was 7 years old. My mother returned to work. The parents planned the meals and I started cooking, when I got home from school. Our home cooking was comfort food. Simply cooking and pleasing my family gave me the greatest pleasure.
Metka is from Slovenia. Her cuisine is influenced by Italy, Austria, Hungary and Serbia. Many good things came to Slovenia: pasta and risotto, polenta, sauerkraut, goulash, beef, pork and sea food, as well as cakes. Her mother was, however, the greatest influence on her cooking. She also gave a cook book containing Slovenian recipes as a gift when Metka got married.
We were able to add refinements to what we learned of cooking in our homes. I'd also have to say that my mother-in-law, Metka, Marco and Silvio all play a role in my love of cooking. We tried international recipes. Our Spanish friend Henri is an excellent example. I go for anything steamed, braised or roasted. I love to use the oven. It would be hard to cook without garlic or chili pepper. All the herbs I use come from Metka's garden. Our greens change with the seasons. In fall and winter I'll do dense soups, stews, chickpeas, buckwheat and beans (the traditional Brazilian dish Feijoada, a combination of black beans, pork, sausage, smoked beef tongue, and rice).
In summer Churrasco, barbecued beef, is our favorite meal out in the garden. Meat dishes are, Filled Zucchini however, very rare. We prefer much more steamed or stir-fried fresh greens, fishes or vegetable tart as centerpiece of the meal.
It goes without saying that we like a good gals of wine with the meal. Full-bodied whites or dry reds we like the most. Aggressive ones do not agree with Metka. Wine is a wonderful ingredient to cook with too. Only wines that you would happily drink are good cooking wines or the base for many classic sauces. Our wine cellar has become small since we are only two people at home. Nonetheless, the proveniences are Australia, California, Chile, France, South Africa, South Tyrol, Spain and Switzerland. Unfortunately, the marvelous, flavorful and full-bodied dark-red wines from Dalmatia are no longer obtainable.
Knife accident

As my dad already mentioned above, he is a passionate cook.For his 69th birthday we have bought him a set of professional kitchen knives to make cutting and chopping even more joyful. He was very delighted when he got those knives and started using them the same day.

What a shock only a few days later we got an email with the subject: "accident" with the picture on the right attached. Is it just a joke or is it real?

We were very happy when we learned that it was only a joke!

Source: Jackie & Marco
Ornithologie
Metka and I are not by far Ornithologists, nor members of an organization formed to educate the public in the protection and consideration of bird life. We simply became amateur bird-watchers and found an enjoyable hobby. When Metka was a city person she hadn't an eye on birds at all. I had at least the advantage to live in the country, and the teacher taught us to draw domestic's animals.
Amateur Bird-Watching
Since we live in our own house in the green and close the woodland we became aware of great species diversity. We started learning about our domestic birds. Today we know only few birds and a little about their habits. Large numbers of bird species that breed in our area move south to winter in South Europe or Africa. For those who stay over winter its hard and difficult to find the necessary food. For that reason Metka doesn't trim the hedges in autumn and leaves oily seed capsules. When it's freezing weather, we, however, provide food, as many bird lovers do. We also recognized that birds relax or stay over night in the birdhouses that hang on our trees.
We hardly wait for the birds of passage in spring and have a look at the space of time. Sometimes they arrive at the same day as years before. The most exciting still is the nesting. It is very difficult for us to find out, what attracts female birds to males. May be that songs help. We noticed that starlings mimic the sounds of other birds, and Blackbird males imitated my whistle. "Our" Great Tits establish the breeding territory by choosing one of the birdhouses, which they than defend from Blue Tits (alas!), House Sparrows (Passer domestic) and Tree Sparrows. Both parents work together in providing nesting material. The many trees and hedges in our neighborhood offer sufficient food for raising the young to fledglings. Nevertheless, it is obvious that breeding and feeding is trying the parent birds. Even fully-fledged young rely on parental care for some time. Songbirds really have many problems: Magpies and Jays, and cats are around and hunt for the eggs and young birds. As a result only a few survive their first year of life.
Metka rescued Rook Corvus frugilegus from choking on rubbish Bird watching at the Neeracher Reed Metka saved twice bird's life.
A day Silvio brought a young Mistle Thrush along that had fallen out the nest. We kept the foundling in a birdcage and fed small snails and ground meat until it was fully-grown. We were amused when our "guest" returned after it's first "trial" flight to stay another night!
The second bird was a true patient: A Raven. Metka found the adult and nearly drowned bird on the edge of a country lane. It's beak was stuffed full of mud. Metka extracted the sticky mass, cleaned the beak and gave the bird rescue drops to drink! She was extremely happy when the Raven took off after two hours.
We confine our watching to songbirds and birds of prey even if bird sanctuaries in our neighborhood or travels through overseas countries would offer rare species in large numbers. In course of time, we found our favorite birds, e.g. a Robin that comes to our French door, a Blackbird with a white feather or a crippled foot, and the Great Tits, nesting in the birdhouse. In South Tyrol we watched lasting hours dippers when diving for obtaining food. Unforgettable a mountain tour when a Golden Eagle recognized us at the last moment and turned away over our heads.
Eventful summer 2001
Our neighbors had a blackbird nest under the roof. Obviously magpies discovered the brood. In the early morning of Whitsunday a magpie tried to raid the bird's nest but the parent blackbirds, assisted by put up a good fight. When Metka waked with a start and chased the robber away she recognized a nestling in our lawn, picked it up and took care. I saved one that had fallen out of the nest after another attack on Whit Monday. Thanks to stepmother Metka's care the two became big eaters and made rapid progress. We kept them in a birdcage but made every efforts to develop them in self-sufficient birds by training them fly in our garage. The most difficult duty, however, was to guard them against cats and birds of prey. We could hardly wait the return after the first overnight stay out door or after a thunderstorm. To our regret one was heavily injured when flying into a window and after a cat's attack. The poor walked with a limp. After an absence of a few hours the bird had disappeared and we are in suspense whether they were caught or are free.
Meanwhile Metka and I thought the experience over and over and came to the conclusion that we, of course, would try to rescue nestlings again!