The Gap between Rich and Poor
From childhood I am aware that people's position in the society differ. For me it was easy to get along with. My family never suffered while we didn't come from the well of. The few beggars in our cities or the clochards (vagrants) in Paris did never rouse me to action. I realized the unbearable gap between rich and poor people when I traveled to Developing Countries and to territories of the former Soviet Union. Some nations have no middle class; one group is rich, while the other is destitute. Who is a poor man? Is a nomad poor? A native of Zimbabwe explained poverty to me as follows: "We weren't poor people here. One day a trouser was given to a villager. Having now two, he was rich compared with those possessing only one. They have become the poor". Therefore, let's ask another question: How does one become rich? A Brazilian relative of one of the most important Family Trust suspected, his (Italian) great-grandfather was a thief, cheater or even robber baron!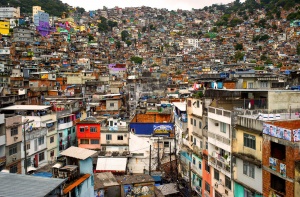 I don't want to comment on rules how poverty is defined or measured, whether people having less than others or not having enough to survive, are the true poor. A number of agencies, however, use poverty statistics to decide how much to spend on welfare programs. The sorry fact is that in the twenty-first century there are millions of starving people throughout the world. It is estimated that each year between 5 and 20 million people die of starvation; Swissaid guesses 5000 children per day! The reasons are manifold: Political instability, corruption, caste systems, unemployment, and mismanagement of natural resources, natural disasters.
The very first day after our arrival 1963 in Brazil I showed Marco and Andrej dwelling places of poor families that beggars description. Both realized later that our German shepherd's kennel was a better refuge. When our Italian butcher supplied our dog meat of high quality and the poor locals guts, we were ashamed. We never asked again for dog food. No wonder that our maid sometime used the meat meant for dog for delicious meals.
We learned even more. Our neighbors criticized Metka when she allowed children, who lived in a ruin with a grandmother suffering from syphilis, to meet our boys. We noticed the practice of separating in Brazil in many fields. Discrimination and exploitation by the higher society happened everyday simply by price levels the poor couldn't pay. Apartheid, the racial segregation practiced in the Republic of South Africa, involving political, legal, and economic discrimination against nonwhites, was of course worst of all. In 1960, the management of a Steelworks rebuked me for sharing my packed lunch with a native unskilled worker.
It is good form today to fight against poverty by transfers of money, goods, and services. It is well known that many welfare programs were above all of benefit to the donor's countries, e.g. the grain farmers, the intermediaries and civil servants. Even if Pope John Paul II has traveled extensively to developing countries in support of human rights and conservative dogma, I am skeptical whether the misery has ever improved. From experience, programs that aim directly at helping poor people are more useful. In any case supervision to prevent false beneficiaries is essential. Since, in spite of the efforts, the poor residents often are apathetic, remain passive and get used to the rubbish.
Medicine
How can medicine become a field of interest for an Electrical Engineer? There are various reasons – I describe in the following paragraphs:
Incurable Disease
In our circle of friends a woman gave birth to a boy the same day and place as Metka gave birth to Silvio. He was their third child after two girls and, in the end, the only with a normal life expectancy.
In the course of time it turned out that the girls suffered from Cystic Fibrosis (Mukoviszidose). I was in complete ignorance but wanted to learn about it. I learned a dreadful story! Cystic Fibrosis is an inherited disorder, which affects breathing, digestion, and reproduction in the body. This lifelong illness gets more severe as life progresses. The glands, which produce mucus and intestinal fluids, do not work properly. People with Cystic Fibrosis have secretions, which are thick and sticky rather than thin and watery. This interferes with the removal of dust and germs in the lungs and can cause respiratory problems, infections, and lung damage. The children affected require a daily and intensive physiotherapy, breathing exercises, must inhale and take medicaments. People with CF have normal intelligence and mental capacity.
For all the parents efforts the girl passed away in 1980 at the blooming age of seventeen. She was a very lovable child and top pupil.
Only in 1989, the gene responsible for cystic fibrosis was identified on chromosome 7. Since that time more than 200 different mutations in the cystic fibrosis gene have been described, and tests have been developed to detect the most common alterations. These tests can identify unaffected carriers .
As of 2008 the life expectancy has improved and comes up to around 45 to 50 years.
Professional Blunder
A second incentive gaining knowledge in medicine science was professional blunder of a local surgeon. On the one hand his capacity was exceptional, on the other hand he was unsuccessful. Our neighbor's son had sticking out ears. No problem at all, said the pediatrician to the parents, just a small incision! After a protracted healing process of the suppurating postoperative scars it became obvious that the auricles and lobes of the ears were reduced to unsightly lobes. The parents were horrified when they saw the disfigured head. By investigating other surgical operation outcomes they found half a dozen blunders of the same kind, and took the surgeon to court.
I recently saw on TV an Austrian miner who lost his eyes in an accident when liquid concrete cauterized his eyes. After ten failed operations a Roman surgeon finally was successful and gave the man his eyesight back on one eye. He implanted a root of a tooth into the eyeball with the aim to focus the light on the optic nerve! I guess the unqualified surgeons were paid anyway.
Did you as a manufacturer ever get money for a supply that did never work properly? I plead for payments to be exclusive of failures!
Naturopathic Medicine
Thirdly, Metka's skill in homoeopathy and household remedy pleased me most. Her garden is full of herbs that can be used in medicine and for flavoring food. Nevertheless, Metka is ailing for years. I don't know, whether I am the cause or the rough Swiss climate! Her complaints are many sided, mainly stomach and intestine trouble (candida albicans), kidney stones, gallstones and joint troubles (meniscus). Last year Metka and I helped many friends who were confronted with rare diseases with addresses of physicians, medical associations or specialized literature. Some times it was depressing, indeed, to leave someone to his fate. The diseases were: Adrenal Tumor, Virilism of women, Polycystic Ovary Disease, Celiac (Gluten), Diverticulitis, Alzheimer's Disease, Lupus Erythematosus, Pancreatic cancer. That's strange for you? For me too! I, of course, will remain an amateur but continue penetrating into unknown fascinating fields of medicine.
Faith in the Future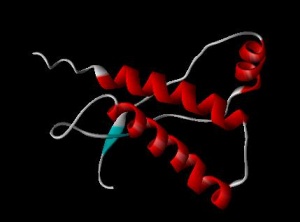 After the negative comments I now want to address to the impressive results of research in the last years. The investigation has led to some of the most exciting discoveries in modern biology. Unfortunately, the money spent does not go to all questions to be solved. For more than 50 years after the science of genetics was established and the patterns of inheritance through genes were clarified, the largest questions remained unanswered: How are the chromosomes and their genes copied so exactly from cell to cell, and how do they direct the structure and behavior of living things?
In February 1997 Scottish scientists created an adult mammal due to exact genetic duplicate. The accomplishment threw open the door to profound ethical as well as scientific controversy over the potential uses and abuses of cloning. Meanwhile Governments try to establish rules for the future development. I personally have no trust in regulations that prevent from researching freely. Law must forbid cloning of human being. It's indeed a difficult task and a double-edged problem. On the one hand one wants to help the progress in medicine and on the other hand one fears the risk of pollution that destroys the purity of plants. Finally the foodstuffs are impure as well. US-farmers who have trusted the praise of the suppliers and applied gene-manipulated seeds had to recognize that the consumption of pesticide could not be reduced.
Painful Experience
In summer 2002 Metka and I helped Silvio to transform a cattle farm into a horse stable. We worked hard and were sore. In the course of September I suffered from joint and muscle pain, and severe fatigue.
My primary physician diagnosed a virus and later on a thrombosis in my left leg even though pain and joint swelling were in both knees. Blood tests revealed a high antibody response against the Borrelia burgdorferi bacteria. Unfortunately, he treated the illness with oral antibiotics and I did not respond to the medication.
Since misdiagnosis of these symptoms can lead to a delay in treatment thus resulting in more severe symptoms, leading to chronic problems affecting the nervous system and the heart, I went to see a physician specialized in Lyme disease, Dr. Norbert Satz in Zurich.
He decided to treat the severe and chronic Lyme disease with intravenous antibiotics Claforan (cefotaxime) in a hospital over four weeks.
The infectious bacterial Lyme disease is transmitted to people by deer ticks. The bite of the deer tick is usually painless and does not itch. Metka and I were used to carefully check the body after spending time in wooded areas. It is worth to mention that I did not recall a sting.
I am telling people about the ticks because of common ignorance. Even doctors speak about "Zeckenbiss" = Bite, but ticks do not bite, they sting = stechen, like a wasp or a bee. A senior physician in our hospital (Kantonsspital) was not aware, where the name Lyme comes from. (Lyme is a town in New London County, Connecticut, United States). He also was uninformed why the bacteria is named Borrelia burgdorferi, in honor of  Willy Burgdorfer, born and educated in Basel. He has described the bacterium involved in 1981.
Many doctors inform their patients that a vaccination against tick stings exists – not against the bacteria Borrelia burgdorferi! Fortunately vaccination exists against the Tick-borne encephalitis virus (TBEV), (Frühsommer-Meningoenzephalitis, FSME)
It never rains but it pours – Ein Unglück kommt selten allein
In October 2002 I had a planned small operation on my left small finger. Since the first joint was "destroyed" the surgeon "carved" the bones and fixed them with a screw. Most probably this was a mistake, because from this time on I had pain and difficulties. The longer the more the fingers and the hand were swollen and the surgeon finally detected the very seldom Morbus Sudeck [Complex Regional Pain Syndrome (CRPS)]. The cause of CRPS is difficult to find. Statistically women suffer more frequently, shocks can cause it, and the psyches seem to have more impact than the physics. In my case, the operated finger or/and the broken arm (on December 13, 2002 I slipped on ice and broke the upper end of my left arm. The treatment was by non-surgical procedure, stabilization and pain management) are by no doubt the root cause. The treatment* is complex as well and can take one year. In my case it went in parallel with the 120 Claforan infusions and I am grateful to the doctors involved that it helped without side effect.
* Hydergine – Despite the fact that hydergine has been used in the treatment of dementia for many years, its mechanism of action is still not clear.
Acétalgine – It orders the brain require a greater amount of pain to be present before the body actually feels it.
Miacalcic (Salcatonin) – The exact role of calcitonin on osteoblastic activity has not been fully established
New Experiences
Alzheimer's disease
During the last years a few friends and acquaintances were diagnosed with Alzheimer's disease or Parkinson's. Whenever I visited them at home or in a clinic I left shaken to the bone. Up to now doctors aren't sure what causes Alzheimer's disease, the degeneration of the brain is fatal! Probably the dementia patient isn't the very poor person but the relatives are. And Alzheimer's is having a rapidly growing impact on our society. Worldwide, some 50 million people currently have dementia, and that number is expected to triple by the year 2050.
A friend, whom I know since 1945, suffers on Parkinson's plus Dementia with Lewy bodies (DLB). He develops problems with thinking and deductive reasoning. His speaking ability is still eloquent but ends often abrupt.
Cluster headache (Cluster-Kopfschmerz)
Cluster headaches occur in cyclical patterns or clusters, which gives the condition its name. Cluster headache is one of the most painful types of headache. It is said that the pains are more severe than uterine contractions. The cause is unknown and up to now not curable by medical measurements. Cluster headache may be misdiagnosed as migraine or sinusitis. Recommended treatments for acute attacks include oxygen (12 liter/min). Unfortunately, Marco has been suffering of chronicle cluster headache for more than ten years.
Trigeminal neuralgia (Trigeminusneuralgie)
This disorder is characterized by episodes of intense facial pain. My close friend, a 79 years old retired farmer, told me that the pains are imaginable. Although TN is incurable, its symptoms can be managed with medication and surgery.
.